Collaborative economy
Collaborative economy refers to marketplaces that provide access to goods, services or skills through Peer-to-Peer exchanges. NADI explores the economic, technological and societal/environmental impacts of such exchanges.
Description
The sharing economy or collaborative society is a new paradigm developing very rapidly where using a good or a service prevails over its ownership. Such an access-based approach is supported by societal, economic and technological facilitators.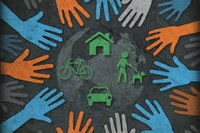 A report by PwC predicts that 5 key sharing sectors (P2P finance, online staffing, P2P accommodation, car sharing and music/video streaming) have the potential to increase global revenues from 15 billion USD in 2014 to 335 billion USD by 2025.
NADI investigates a series of issues related to this emerging collaborative economy/society, including the technical functioning of the P2P platforms enabling providers and users to share or exchange goods and services in a secure and privacy- aware way; the psychological processes (motivations, attitudes, emotions etc.) underlying the adoption of collaborative initiatives; the extent to which technical, informational and social competences are mobilized by users; the legal rules applied to users and platforms in the sharing economy (in particular, consumer protection, labour law, and competition law).
Key publications
Colin, J.-N. and Hoang, Minh Tien (2015), Securing a Loosely-Coupled Web-Based eLearning Ecosystem Combining Open Standards, Web Information Systems and Technologies International Conference, WEBIST 2014, Revised Selected Papers Springer, Lecture N.
Collard, A-S., Klein, A. and Philippette, T. (2016). « L'économie collaborative: entre jeu, participation et confiance », Recherches en Communication, 42.
Decrop, A. (Ed.) (2017). La consommation collaborative: Enjeux et défis de la nouvelle société du partage. De Boeck.
Decrop, A., Del Chiappa, G., Mallargé, J., and Zidda, P. (2017). "Couchsurfing has made me a better person and the world a better place": the transformative power of collaborative tourism experiences. Journal of Travel and Tourism Marketing, 1-16. DOI: 10.1080/10548408.2017.1307159
de Streel A. (2014), "The Antitrust Activism of the Commission in the Telecommunications Sector", in P. Lowe and M. Marquis (eds), European Competition Law Annual 2012: Competition, Regulation and Public Policies, Hart, 189-208.
Key projects
CCschemes: What drives consumers to provide goods in collaborative consumption schemes? The role of market mediation and reciprocation (Alain Decrop and Antje Graul, Leeds University Business School).
Elearning: Antecedents and consequences of consumers' (un)learning online PhD. PhD. Thesis of Nadia Steils; promotor: Alain Decrop).
Servshare: Revisiting the service evaluation process in the sharing economy (PhD. Thesis of J. Mallargé; promotors: Pietro Zidda and Alain Decrop).
ShareABike: This project includes a 3-year research grant from the Walloon Region to study and develop a new generic and smart system of bike sharing, named, in collaboration with Naxys and MARO (UMons) (Mallargé, J., Godart, J.-M., and Zidda. P.).
Contact: Alain Decrop